synonyms: colar bone fracture, clavicle fracture, shoulder fracture
Clavicle fractures are common representing 4-15% of all fractures and 44% of those in the shoulder area. They occur more commonly in men (68%) than women (32%).  Clavicle fractures are more common on the
left side (61%) than the right side (39%). Traffic accidents are the most common cause of clavicle fractures in adults.
The clavicle generally fractures in its mid portion (81% of the time). The majority of clavicle fractures will heal well without surgery. Although the outcomes of non-operatively treated clavicle fractures are generally excellent, 31% of non-operatvely treated patients report some shoulder weakness, fatigue, paresthesias or asymmetry in the shoulder. The more displaced and comminuted a clavicle fracture is, the more likely the outcomes of non-operative treatment will be poor.
For severe or displaced clavicle fractures surgical treatment is considered. During surgery the clavicle is repaired back to its anatomic position generally using metal plates and screws.  Risks of surgery include but are not limited to: Nonunion, Malunion, Infection, Neurovascular Injury, Hardware failure, CRPS, Shoulder Pain, Shoulder stiff
ness, Incisional scar (cosmesis), CRPS,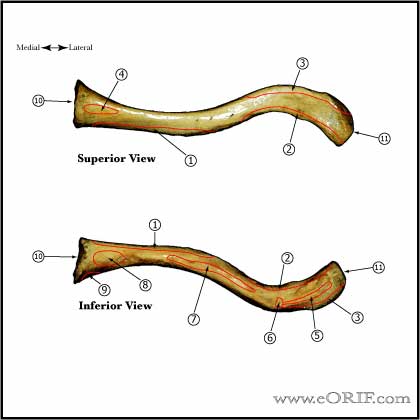 Numbness surrounding the incision, need for hardware removal, Risk of anesthesia including heart attack, stroke and death, DVT/PE. Althought complications can occur most patients are satisfied with their surgical outcomes.
Dr Grutter has extensive experience in treating clavicle fracture both surgically and non-surgically and has done research and presentations at national meetings on the treatment of clavicle fractures.  He can review a patients particular injury, their current situation and discussed their treatment options to help them determine the best treatment for each individual patient.
With both operative and non operative treatment patients are placed in a sling for comfort, and do not do any overhead motion initially. Patients may remove the sling for elbow, wrist and hand range of motion exercises.  Patients with Clavicle fractures typically can return to most of their activites in 8-10 weeks. Studies have shown the mean time for fracture healing to be 28.4 weeks for non-operative treatment and 16.4 weeks for operative treatment for displaced clavicle fractures.
Every person and their particular circumstances are different.  Please read this information carefully. Write down any questions that you have about your injury and its treatment and discuss them with Dr. Grutter. Working together you and Dr. Grutter can determine the best individual treatment for you.