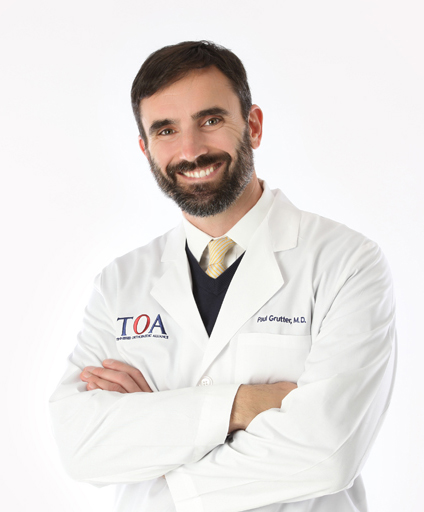 Dr. Grutter is an orthopaedic surgeon specializing in shoulder surgery, arthroscopic surgery and joint replacement.  He trained at the most well known and respected medical center in the world, Johns Hopkins.  Dr. Grutter is board certified in both Orthopaedic surgery and Orthopaedic Sports Medicine and is fellowship trained in Shoulder and Elbow surgery.
Dr. Grutter was previously an assistant Orthopaedic surgeon for the Baltimore Orioles and has provided Orthopaedic care for numerous Navy SEALs, Army Rangers, Polish and British Special Forces as well as the US Navy, Air Force, Marines, Army and Coast Guard.
Having been a former collegiate scholarship athlete, Dr. Grutter commonly cares for athletes of all kinds.  Dr. Grutter played on two NCAA Division II playoff football teams and was the team captain of the 1994 team which finished ranked 9th in the nation. He was a 1st team MIAA All-Conference inside linebacker and a NCAA Division II All-American. 
Medical School
University of Missouri-Columbia
Residency
Detroit Medical Center / Wayne State University
Fellowship
Johns Hopkins, Baltimore Maryland - Shoulder and Elbow Surgery
Board Certification
Orthopaedic Surgery American Board of Orthopaedic Surgery
Orthopaedic Sports Medicine American Board of Orthopaedic Surgery
Fellow, American Academy of Orthopaedic Surgeons
Areas of Specialty
Rotator Cuff Repair
Anterior Hip Replacement
Outpatient Total Hip Arthroplasty
Robotic Partial Knee Replacement
Outpatient Total Knee Replacement
Robotic Total Knee Replacement
Clavicle Fracture
Shoulder Arthritis
Reverse Total Shoulder Arthroplasty
Military Service and Commendations
United States Air Force
Army Commendation Medal for meritorious achievement and meritorious service during Operation Enduring Freedom, Forward Operating Base – Salerno, Afghanistan
Air Force Commendation Medal for outstanding achievement and meritorious service to the United States Air Force 
NATO Medal for service in relation to ISAF Operation
Air Force Afghanistan Campaign Medal with Bronze Star in recognition of service in support of Operation Enduring Freedom
Army Combat Action Badge in recognition of Soldiers personally engaged by the enemy
Air Force Expeditionary Service Ribbon with Gold Border
National Defense Service Medal
Air Force Outstanding Unit Award and was a member of the Honor Flight - USAF Officer Training School.